Get a taste of Miami's vibrant and diverse food culture, as Scott Cooper Miami takes you for a stroll through some of the city's best restaurants. In this blog we will be exploring the many types of dining in Miami, from hidden local gems to waterfront dining, international options and everything in between. As you will see, there's no shortage of choices when feasting in the magic city!
Can't bear to leave the beach? No problem!
Miami has a wonderful variety of waterfront options, so you can keep soaking up that sunshine. After all, what's better than feeling a crisp ocean breeze while enjoying an ice-cold drink and a delightful meal? If you are looking for Miami's best waterfront dining experience, Scott Cooper Miami suggests The Wharf Miami, Smith & Wollensky, The Strand Bar and Grill, Seaspice and The Lido Bayside Grill at The Standard.
If you prefer to catch a quick bite to eat at a hotel or order room service, you won't be disappointed. Miami's stylish and chic hotels are more than just a place to lay your head at night, as many of them are also home to award-winning restaurants known for the city's greatest dining experiences. Below are Scott Cooper Miami's top 5 picks for quality hotel dining:
Are your taste buds craving something exotic? Check out Miami's international cuisine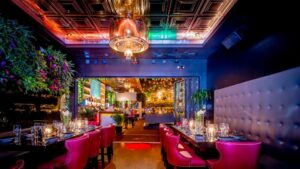 Miami is renowned for its multicultural communities, and this is truly reflected in its international dining options. From Latin American, Cuban, French and Italian, to mention only a few, Miami has all of types of exotic foods to fulfill your appetite. As Miami is mostly known for its Cuban and Latin American culture, there is no shortage of food options in this area.
For traditional Latin American restaurants head down to Little Havana and visit Miami's iconic spots, such as Versailles restaurant or La Mar by Gaston Acurio.
If you're craving French or Italian, like most cities, Miami is loaded with options. Whether you are looking for fine dining or a casual pizzeria, there are plenty of places to choose from. Scott Cooper Miami's fine dining top picks include Scarpetta at the Fountainbleau for Italian delicacies and Pied a Terre for French cuisine. If you don't want to break the bank, head over to South Beach and visit the local's top choice Lucali for a slice of pizza. Craving a croissant on a budget? French bistro Café Bastille has delicious, affordable options that will make it nearly impossible to stop at just one!
Scott Cooper Miami – Local Food Guide
If you find yourself in Miami and are looking for something to eat, whether on the beach, in the hotel or tucked away in a local neighborhood, there's no shortage of places to choose from. For the best eats in town, try visiting any or all of the above-mentioned from Scott Cooper Miami Local Food guide.